What is the Izawa Gion Festival?

射和祇園祭とは

The Izawa Gion Festival of Izawa-cho, Matsusaka City is a stirring and elegant festival that has a history of more than three hundred years.

The parade of the Mikoshi begins at Isawa Shrine. The group of men who carry the Mikoshi raise a spirited cheer of "heave ho" as they repeatedly swing the Mikoshi from left to right,  a movement called "Yokoyusuri," and throw them up and down, a movement called "Tateyusuri."

With the coming of nightfall, the town's twelve large and small floats reveal their elegant form under the illumination of Chochin (paper lanterns).

Izawa Gion Festival's Yatai Procession has been designated an intangible folk-cultural property by Mie Prefecture and it has been has been held continuously since the Genroku period (1688-1704).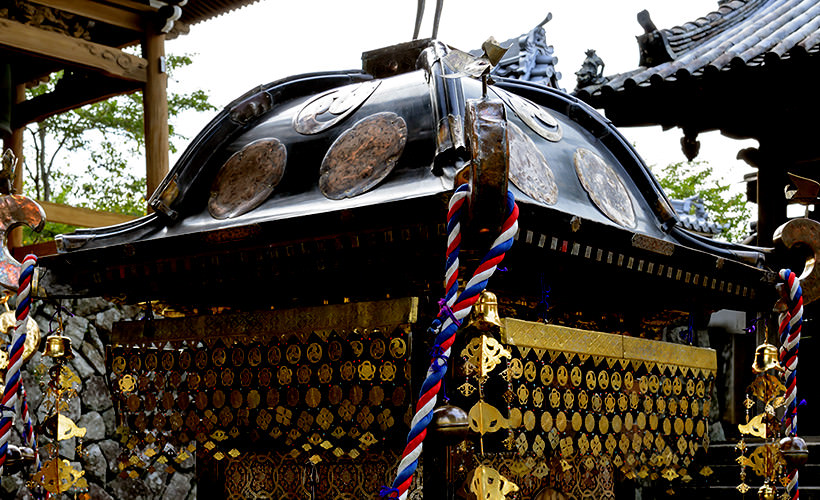 Introducing the Yatai

屋台紹介

Painted in black lacquer and adorned with hammered-on brass fittings, the Yatai (floats) possess a dignity beauty.

All Yatai have a double-decked construction that starts from their wheel base, onto which a frame is mounted and floors laid; then the black 'Rambuchi' decoration rails and bannisters are attached.

The splendor of the Yatai's many colors and the elegance which emerges in the light of their Chochin lanterns continues to captivate countless people today, just as it did in the past.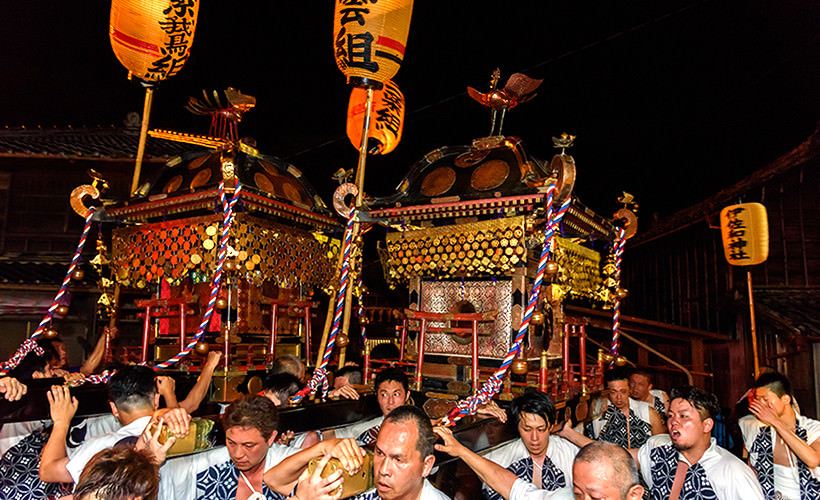 Procession Routes of
Mikoshi (Portable Shrine)
and Yatai (Festival Float)神輿・屋台巡幸ルート
Procession Routes of Mikoshi and Yatai on the Yoimiya (Festival's Eve/Saturday) and Honbi (The Day of the Festival/Sunday)
After the conclusion of the Shinto rites at Isawa shrine transferring the Kami to two Mikoshi (the portable shrines of Gozu-tenno and Hachi-oji), the lantern decorated Mikoshi emerge from the shrine and proceed throughout Izawa-cho.
The nighttime procession looks as beautiful as a scroll painting.
After the conclusion of the Shinto rites at Isawa shrine transferring the Kami to two Mikoshi, the Mikoshi of Gozu-tenno followed by the Mikoshi of Hachi-oji emerge from the shrine, and are paraded throughout the town.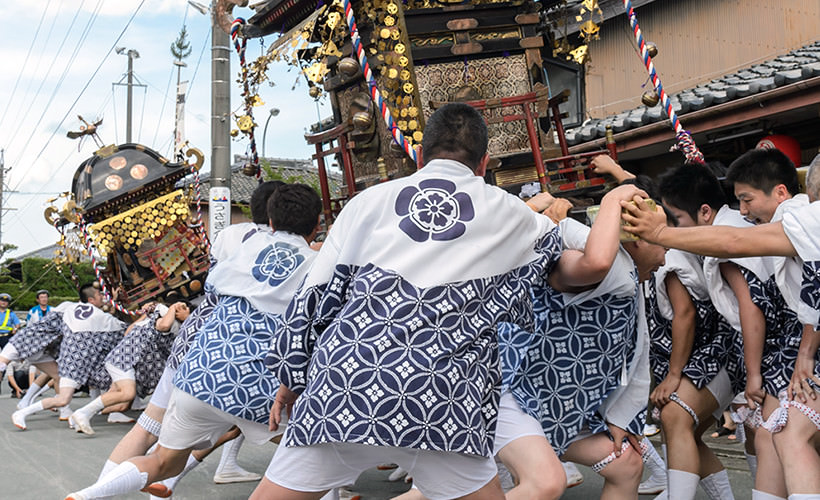 Cultural Assets of Izawa-cho

射和町の文化財

The Izawa-cho neighborhood of Matsusaka City is a relic from time immemorial. Keifun (raw material of face powder made with quicksilver mined from the upper reaches of the Kushida River in the Niu area) brought great wealth and a sophisticated culture to the area.

This wealth and culture is the inheritance of traditional observances in Izawa-cho, including the Gion festival and various other folk customs.
Cultural Assets that dot the landscape of the town are invaluable sources of its unique history and culture.

A Glimpse of the Izawa Gion Festival Through Video

動画でみる射和祇園祭